A last minute panic to find a COVID test centre brought us to Salins-les-Bains where the presence of salty waters here – explained by the existence of a sea which covered Jura over 210 million years ago – became salty through contact with rock salt and then, by pressure, rose up naturally on surface to give birth to salty springs. The salt or so called "white gold", obtained by evaporation, accounted for half of the region's income and rose to became the second town of the region Franche-Comté.
No trip to the Jura is complete without a detour to the mecca of vins jaunes – Château-Chalon. The town itelsf sits proud atop terraced gardens and provides commanding views across a patchwork of vineyards below.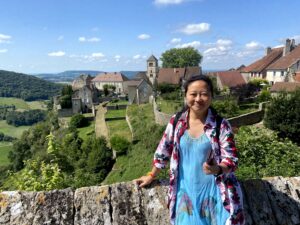 Jura's vins jaunes – of which Château-Chalon is considered the finest example – are unique to the region and must be made exclusively from Savagnin grapes which are late harvested (but not botrytized) to ensure maximum ripeness and flavour. Often compared to sherry, vins jaunes are oxidatively aged under a blanket (or voile) of naturally developing yeasts.
Just for the sake of frivolity, we ventured as far as Lons-le-Saunier, home of la vache qui rit or laughing cow cheese. Here, we discovered that Swiss researchers (who had finessed the pasturisation process to ensure the resulting soft chesse can travel) and pioneering product marketing strategies of the founding Bel family (who had based the logo on a travelling meat wagon during the first World War called "La Wachkyrie", itself a play on the word for Valkyrie) created a global brand that is as infamous for taste as it is famous for covenience.